Undying Love
Just about all Americans today know that food and cooking are very popular in this country today. And if you frequent this site it is likely that you have a love for all things culinary.
Freedom to be creative
One of the best things about being a chef/cook is that we are given a chance to be creative each day.I personally couldn't imagine working the rest of my life in a job where I was sitting at a desk all day; I love that beinga pastry chef is a hands-on job that allows me to be creative and artistic everyday!I believe this creativity is also one of the reasons why so many chefs have tattoos; because we are typically creative in more than just the kitchen.It is also great that being in the kitchen gives a person the opportunity to be free in the way you express yourself, may that be through tattoos, hair or even makeup.
Dying and Inking
It seems like today there are so many people with food-related tattoos, and its not just the professional chefs that have them.I have seen a wide array of very cool and truly terrible looking food tattoos.One of my favorites is Matt Selby's take on knuckle tattoos:
I am amazed at the artistic talent that went into creating this very realistic KitchenAid Mixer tattoo.The first time I saw this pictures, I thought this was photoshopped. Just look at the detail that went into the reflection in the bowl!
I went with my roommate to get this tattoo done.It is hard to see from the picture, but the heart looks like it is made from gold.
The most popular food tattoos are bacon, chefs knives and cupcakes.Sure, I love bacon too… but I certainly don't want it on my body for the rest of my life!
So before you go out and get a baked potato tattooed on your back, take a look at some of these terrible tattoos:
Don't forget to eat your vegetables, or whatever these things are!
So that's what they make face cream from!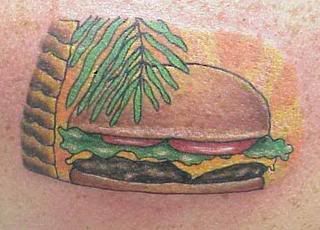 Summer vacation hamburger?I don't understand this at all…
Huh?
Un-dye-ing Love
Just don't forget that your tattoo is there forever, and that its okay to shop around for the best tattoo artist before buying!I have always loved the idea of making my 3rd tattoo a food-related one, but cant seem to decide on just one idea!Here are two last pictures that I enjoyed to give you some food for thought:
Browse Culinary Arts Schools & Colleges